[2023] Pickled In The Park - Pickleball Tournament - Meadow Park Pickleball
2023 Pickled in the Park - Pickleball Tournament: Saturday, June 17th at Meadow Park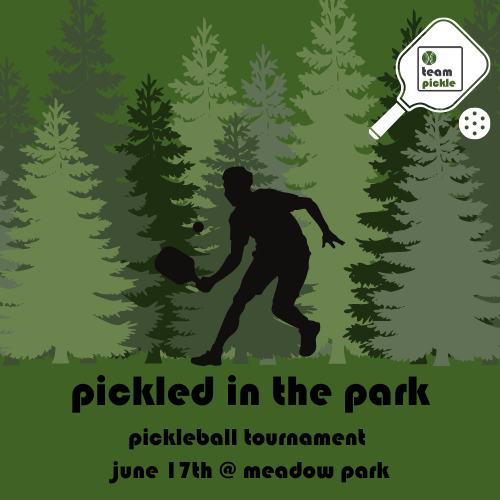 3 game guarantee, top teams in each division will participate in single elimination playoff after seeding, prizes for winners and raffle for all.
This is an OPEN tournament, there are no gender requirements for teams of 2, any mix of gender will be in ALL divisions. Sign up and determine who is the most pickled of them all!


WHAT ELSE WILL BE AT THE PARK? --- Fisherman's Market will be on site for food, Hop Valley & MolsonCoors will have samples available in the consumption area (tournament will be BYOB in a restricted area to get the full Playground Sports experience) & T-shirt printing on site by THREADBARE
Game Format:
- Games are played to 40 mins of best of 3 games, whichever is first. Game 1 & 2 played to 11pts (win by 2) and game 3 as needed for tie breakers are played to 5pts (win by 2).

- Games will be self monitored.

-Top teams from each pool/division will play single elimination playoff

Divisions:
Social Beginner Division - Self Rated 1.0-2.0 Brand new to pickleball sign up for this division to get some games in and learn through playing against other beginners.
Beginner Plus Division - Self Rated 2.5-3.0 players
Intermediate Division - Self Rated 3.5-4.0 players
Intermediate Plus Division - Self Rated 4.5-5.0
Advanced Division - Self Rated 5.5+
See rating system attachment to determine your self rating.

Contact Bec play@playgroundsports.net with any questions or for assistance with registration.

Use the form below to filter by sport, season, day(s) and/or location; or scroll to view all programs.
---
Team Fees

Regular

$100.00 per team

Free Agent Fees

Regular

$50.00

Team Fees

Regular

$100.00 per team

Free Agent Fees

Regular

$50.00

Team Fees

Regular

$100.00 per team

Free Agent Fees

Regular

$50.00

Team Fees

Regular

$100.00 per team

Free Agent Fees

Regular

$50.00

Team Fees

Regular

$100.00 per team

Free Agent Fees

Regular

$50.00